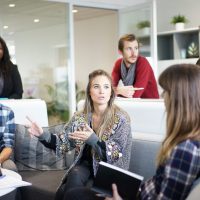 Objectives
The WP8 aims to improve work access and participation of people with chronic diseases, to support employers in implementing health promotion and chronic disease prevention activities in the workplaces, and to reinforce decision makers' ability to create policies that improve access, reintegration, maintenance and stay at work of people with chronic diseases.
This work package will create a training tool for employers, a toolkit for workplace adaptation, and policy recommendations, all for the benefit of employees, employers, and the society. Please click here to see a video with Matilde Leonardi, the leader of this work package.
 Main Tasks
TASK 2: DEVELOPMENT AND PILOTING A TOOLKIT FOR ADAPTATION OF THE WORKPLACE FOR ACCESS, PREVENTION AND MAINTENANCE OF PEOPLE WITH CHRONIC DISEASES AT THE WORKPLACE
Task leader: National Institute for Health and Welfare (THL)
The CHRODIS-PLUS Toolkit for Adaptation of the Workplace will support employers to understand the benefits of prevention of as well as of workplace adaptation for CD patients and to implement prevention activities acting on environments within identified high-risk populations. The strategy will be tested with pilot projects, conducted in 4 countries Finland (involving beyond THL also the Finnish Institute of Occupational Health, University of Eastern Finland, Technical Research Centre of Finland (VTT) and selected OHC service providers and workplaces), Italy, Netherlands and Spain, respectively by THL, FINCB, RIVM and CSJA.
Task description: Workplaces offer an ideal setting to reach and support the promotion of health of large audiences. What and when we eat and drink, how much time we spend sedentary, even our social relationships and mental and overall wellbeing are to great extent determined by our working environments. There is an increasing need to support employers to understand the benefits of prevention of CD and to implement prevention activities within identified high-risk population, by adapting the workplace. The "adaptation of work place" is understood in a broad sense as any (sustained) policy/activity/process/change in infrastructure that is undertaken to enhance the health and wellbeing of the employees, whether they are healthy, at risk, or already are suffering of one or several chronic diseases. The CHRODIS-PLUS Toolkit for Adaptation of the Workplace will be an evidence based, practice-oriented guide for the employers to adapt the work environments to support healthy lifestyles and prevent and manage chronic diseases in the work settings.
Timeline: November 2017 – April 2020.
Literature study and website searches, November 2017 – August 2018
Interviews /focus groups with stakeholders, September 2018 – November 2018
Development of chronic disease prevention and management Toolkit in workplaces, November 2018 – February 2019
Piloting the Toolkit, February 2019 – October 2019
Reporting of the pilots and finalizing of the Toolkit Octover 2019 – February 2020
Dissemination of the Toolkit March 2020 – August 2020
Deliverable of the task: D8.2 "Toolkit for adaptation of the workplace to facilitate chronic disease prevention and management"
TASK 3: DEVELOPMENT OF POLICY RECOMMENDATIONS FOR HPDP IN THE WORKPLACE FOR PEOPLE WITH CD INCLUDING ACCESS TO, REINTEGRATION, MAINTENANCE AND STAY AT WORK
Task leader: University of Salud Carlos III. (ISCIII)
Task description: Individuals with chronic diseases often experience work-related problems, leading to negative consequences at individual, national and European level. The rising prevalence of persons with chronic diseases as well as the current economic crisis make this issue even more problematic, requiring actions in terms of innovative strategies to improve the participation of these persons in the labour market. Policy recommendations to develop human capital oriented to the employment sector will be developed, tackling the employment sector as an area where care of people with CD should be improved, by policies and implementation of best practices.
CHRODIS PLUS recommendations will be based on the identified best practices of Health Promotion and Diseases Prevention in the workplace for people with CD, including access, maintenance, reintegration and stay at work, with particular emphasis on the issues of multi-morbidity and employment. CDs can only be tackled effectively if Member States adopt a holistic inter-sectoral approach within the idea of "Health in All Sectors". Furthermore recommendations targeting policy makers will ensure that legislative frameworks provide better accessibility of existing employment support to persons with CD.
Timeline: October 2019 – August 2020.
Based on material collected in Task 8.1 and 8.2, as well as on results of meeting with WP6, a set of recommendation will be developed. They will also be based on previous material developed for other EU and international projects (eg Pathways, PH Work, etc)
The draft will be submitted at month 28 to relevant stakeholders in collaboration with EBC, ECDA, EPF, EFNA and other relevant European organizations, following a policy dialogue.
Deliverable of the task: D8.3 "Policy recommendations for health promotion and disease prevention in the workplace for people with CD including access to, reintegration and stay at work"
Timeline
TIMELINE OF KEY ACTIVITIES
DELIVERABLES TIMELINE
D8.1 "Training tool for employers and the employment sector: CD and employment" (December 2019)
D8.2 "Toolkit for adaptation of the workplace to facilitate chronic disease prevention and management" (February 2020)
D8.3 "Policy recommendations for health promotion and disease prevention in the workplace for people with CD including access to, reintegration and stay at work" (April 2020)
MILESTONES TIMELINE
MS36 Expert meeting for training development (March 2018)
MS37 Training Tool test pilot (February 2019)
MS38 Expert meeting for Multi-morbidity and Employment (February 2019)
MS39 Pilot of the Toolkit for Adaptation of the Workplace implemented (April 2019)
MS40 Training Tool in English (December 2019)
MS41 Toolkit for Adaptation of the Workplace developed (February 2020)
MS42 Policy recommendations developed (April 2020)

Key Experts and Organisations
Matilde Leonardi - Foundation of Carlo Besta
Neurological Institute, Italy
Jaana Lindstrom - National Institute for Health and Welfare, Finland
MATILDE LEONARDI
The Foundation of the Carlo Besta Neurological Institute (FINCB), Milan, Italy
E-mail: matilde.leonardi@istituto-besta.it
JAANA LINDSTROM
National Institute for Health and welfare (THL), Finland
E-mail: jaana.lindstrom@thl.fi
The Foundation of the Carlo Besta Neurological Institute (FINCB), Milan, Italy
National Institute for Health and welfare (THL), Finland
University of Salud Carlos III. (ISCIII)
The French National Cancer Institute (INCa)
Technical University of Drezda (TUD)
Europen Patients Forum (EPF)
National Institute of Health (ISS)
National Institute for Health Public and the Environment (RIVM)
National Institute of Public Health (NIJZ)
Regional Ministry of Health of Andalusia (CSJA)
Semmelweis University (SU)
Vilnius University Hospital Santaros Klinikos (VULSK)
Catholic University of Sacro Cuore (UCSC)
EBC European Brain Council (Fred Destrebeq)
EFNA European Federation of Neurological Association (Heather Clark, Donna Walsh)
ECDA European Association of Chronic Diseases Patients (Benedicte Faure)
EASPD European Association of Service Providers for Persons with Disabilities (Luk Zelderloo)
FIOH Finnish Institute of Occupational Health (Jaana Laitinen)
VTT Technical Research Institute Finland (Eeva Rantala)
The Danish Committee for Health Education (Lars Munter)